Will the Sun Ever Set on Anti-Semitism?:  Elliot Kaufman, WSJ, Oct. 22, 2021 — If anti-Semitism is the socialism of fools, what to make of anti-Zionism? It is increasingly in vogue on the left, and throwing its weight around. Consider Sunrise DC, Washington hub of the Sunrise Movement, an activist group whose once-fringe proposal for a Green New Deal is now de rigueur on the left. On Wednesday Sunrise DC announced it would pull out of an event advocating statehood for the District of Columbia, a cause it supports, because of the involvement of three "Zionist organizations."
---
My mother and her family might be the oldest siblings in Canada
---
---
Avi Benlolo: With Shoah Wall, Austria faces its truth and reconciliation moment | National Post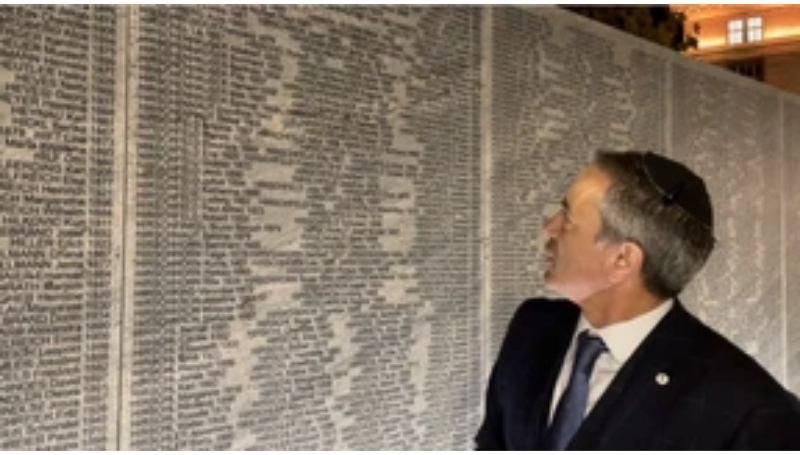 ---
For Further Reference 
Selena Steinfeld, 86, Crowned Miss Holocaust Survivor For 2021:  WIN, Nov. 17, 2021 — Selena Steinfeld, an 86-year-old Holocaust survivor from Haifa, was announced the winner of the 2021 Miss Holocaust Survivor beauty pageant during a special event at the Friends of Zion Museum in Jerusalem on Tuesday evening.
Holocaust Survivors Return to Germany on March of the Living:  Jerusalem Post, Oct. 26, 2021 — The "March of the Living," a trip dedicated to exploring the remnants and history of the Holocaust, has finally resumed after a nearly two-year hiatus.
Holocaust Survivor Publishes PhD Dissertation on 'Serendipity' Of Balfour: Renee Ghert-Zand, Times of Israel, Nov. 2, 2021 — Paul Goldstein is not the oldest person to receive a PhD, but he comes pretty close. In September 2020, Goldstein earned a doctorate in political science from Israel's Ariel University at age 87.
UK Photographer Captures Haunting Scenes of Holocaust's Lasting Imprint:  Robert Philpot, Times of Israel, Oct. 21, 2021 — On February 9, 1943, Transport 46 left the Drancy concentration camp on the outskirts of Paris bound for Auschwitz. Among the 1,000 deportees being carried to their deaths was 73-year-old Aaron Ianco.