The Continuing Plight of the Yazidi People; New Documentary:  Doris Stubb Epstein, Israfax, Jan. 12, 2022 — The nightmare began on August 3, 2014.   ISIS militants attacked the Yezidis in their millennial-old homeland in northern Iraq, killing thousands of men and older women on the spot and displacing more than 360,000 others in days. Thousands of women and young girls, some as young as nine, were raped repeatedly, sold as sex slaves, and passed around to ISIS fighters. Some fifty thousand fled to Mt. Sinjar, the holy place of the ancient Yazidi people, with just the clothes on their backs.
How to Fight Antisemitism in the Arab World:  Jonathan Schanzer, FDD, Jan. 12, 2022 — Jonathan Schanzer, Senior Vice President for Research, FDD:  Speakers (clockwise from top-left): Hussain Abdul-Hussain, Research Fellow, FDD; Jonathan Schanzer, Senior Vice President for Research, FDD; Faisal Saeed Al Mutar, President and Founder, Ideas Beyond Borders; Bari Weiss, Author, How to Fight Anti-Semitism
---
'Strangers in Their Own Land': Iraqi Yazidis and Their Plight, 7 Years On From Genocide:  Scott White, The Conversation, Dec. 14, 2021
Will Islam Survive Islamism?:  Daniel Pipes, Washington Times, Nov. 15, 2021
Arab Racism and the 'Jewish State':  Khaled Abu Toameh, Gatestone Institute, Jan. 13, 2022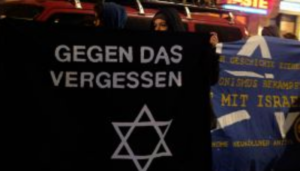 Mainstream Jewish Groups Need to Understand That Interfaith Dialogue Legitimized CAIR:  Jonathan Tobin, JNS, Dec. 23, 2021
---
For Further Reference:
Iraq: After Tragedy, New Freedoms, Opportunities For Yazidi Women:  Cathrin Shaer, DW, Dec. 18, 2021 — We really appreciate your visit," Luqman Suleiman told a group of tourists from around Iraq and Germany recently, when he met them at the entrance of the Yazidi temple, Lalish. For the ethno-religious Iraqi minority this site in northern Iraq is the equivalent of the Vatican to Catholics, or Mecca to Muslims. Every Yazidi is expected to come here at least once in their lifetime. And these days, more outsiders are coming here too.
A Cryptic Email, Then A Confession: How A Muslim Group Uncovered Moles:  Michelle Boorstein and Hannah Allam, Washington Post, Jan. 12, 2022 — It started with a cryptic August 2019 email with no name and the subject line: "Info you may want." It took more than a year for the emailer to reappear with something more specific: There is a mole inside your organization.
CAIR Drops Lawsuit Against Whistleblower:  IPT News, Jan. 10, 2022 — A former employee who alleged rampant sexual discrimination and harassment inside the Council on American-Islamic Relations (CAIR) was using "disturbingly false allegations" in a "systemic and continuous internet smear campaign" to get people to stop donating to, or working with the organization, CAIR said in a lawsuit filed last spring.
How Europe Dumped Islamism in 2021:  TFI Post, Dec. 31, 2022 — For the last few decades, Europe has been a haven for Islamic migrants from the Middle East and Afghanistan.