When the Mob Came for the Jews of Baghdad
Joseph Samuels
WSJ, May 28, 2021
"The Jewish community bore the brunt of this explosive combination of Arab nationalism, Nazi propaganda and anti-Semitism."
I was 10 when mobs attacked the Jewish community of Baghdad, my community, with cruel and unimaginable violence. Rioters maimed, raped, killed and robbed the unsuspecting Jews. This massacre, which began June 1, 1941, was called the Farhud, Arabic for "violent dispossession" or pogrom.
The seeds of the Farhud had been sown two months earlier. On April 1, a pro-Nazi coup d'état overthrew the pro-British Iraqi government and seized power. The coup was staged by Rashid Ali al Gaylani, an Arab nationalist and former Iraqi prime minister, supported by four army generals, and aided by Fritz Grobba, a former German ambassador to Iraq. This dangerous group was further stoked by the grand mufti of Jerusalem, Haj Amin al Husseini, who deeply hated the Jews. Anti-Semitic propaganda began to appear in the daily newspapers and in broadcasts on Radio Baghdad. It was intended to inflame the Muslim population and rally support for the new regime.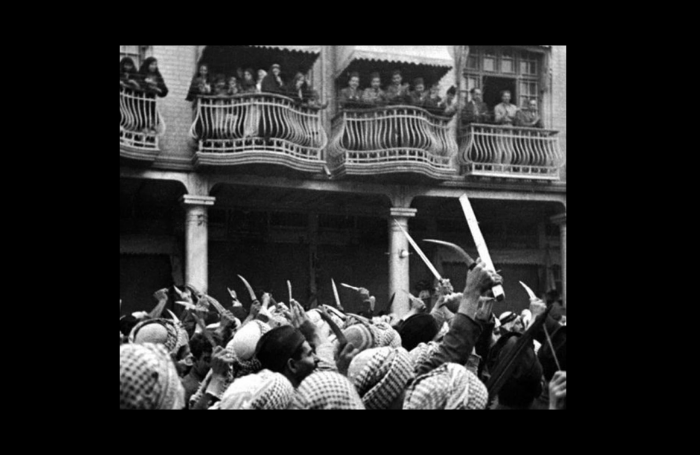 ______________________________________________________

Interview with Steven Acre as told to Machla Abramovitz (aka Effy Fisher)
Ami Magazine, Issue 32, Aug. 3, 2011
"Shavuot signified a birth while the Farhud symbolized a death  –  a death of illusion and a death of identity."
Farhud—violent dispossession—an Arabicized Kurdish word that was seared into Iraqi Jewish consciousness on June 1st and 2nd, 1941.  As the Baghdadi Jewish communities burned, a proud Jewish existence that had spanned 2,600 years was abruptly shattered.
As a nine-year-old, I, Sabih Ezra Akerib, who witnessed the Farhud, certainly had no understanding of the monumental consequences of what I was seeing.  Nevertheless, I realized  that somehow the incomprehensible made sense.  I was born in Iraq, the only home I knew. I was proud to be a Jew, but knew full well that, I was different, and this difference was irreconcilable for those around me.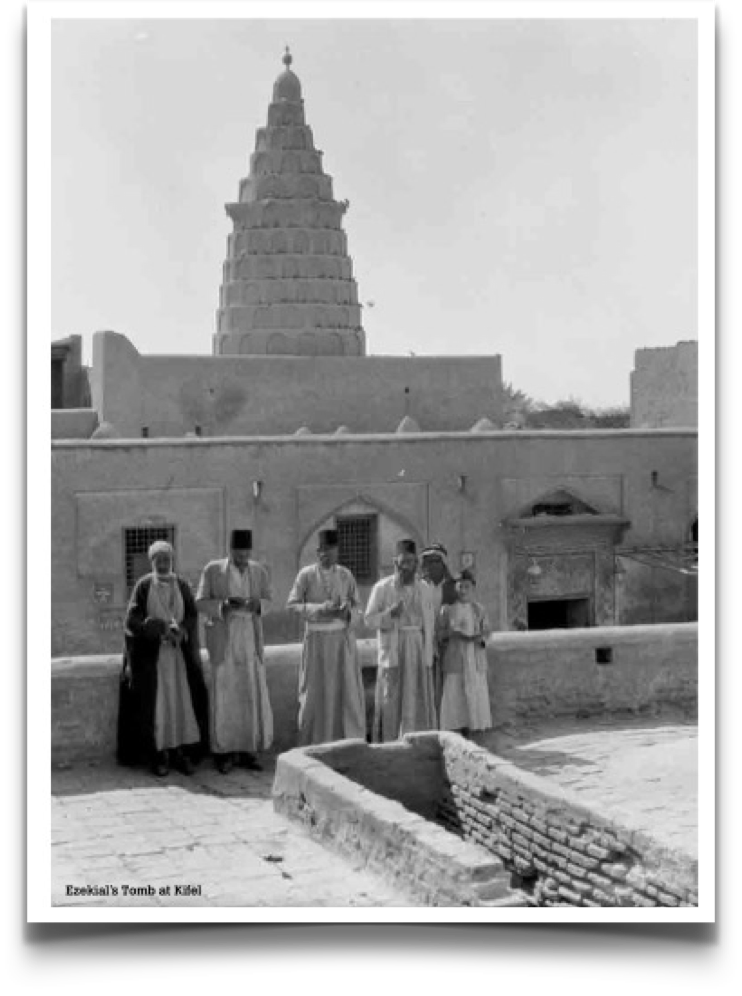 ______________________________________________________
Photographic Evidence Shows Palestinian Leader Amin al-Husseini at a Nazi Concentration Camp
Wolfgang G. Schwanitz
Tablet, Apr. 7, 2021
"The photographs also provide irrefutable proof that all of the men present had precise knowledge of the fate of Jews in Hitler's Germany—and of the likely fate of Jews in their own home countries under Nazi rule."
In 2017, Jerusalem's Kedem auction house posted three of six previously unknown photos on the internet, in which the grand mufti of Jerusalem, Amin al-Husseini, inspects a Nazi concentration camp along with Nazi senior officials and government figures. According to the auctioneers, an expert was of the opinion that these inmates performed forced labor at the Trebbin camp near Berlin, which was, from 1942 to 1945, an SS artillery training place with a branch of the Sachsenhausen concentration camp in Oranienburg. Built after World War I as a Christian "City of Peace," it was taken over by the SS in 1935. Among the prisoners were Jews from Hungary. Forced labor, terror and violence characterized their daily lives. Kedem hoped viewers would help identify men in the photos.
As it turns out, I can now shed light on five of the foreign guests in the pictures—global leaders whose presence reflects the transregional history between Europe, the Middle East, India, and America. The photographs also provide irrefutable proof that all of the men present had precise knowledge of the fate of Jews in Hitler's Germany—and of the likely fate of Jews in their own home countries under Nazi rule. According to Kedem, the photos are stamped "Photo-Gerhards Trebbin." This stamp indicates that they were probably photographed in Trebbin, 30 kilometers south of Berlin, "around 1943." The six photos were auctioned for $12,300 to a private individual who, I would argue, should post the remaining three images on the internet as a humanitarian gesture to families of the prisoners.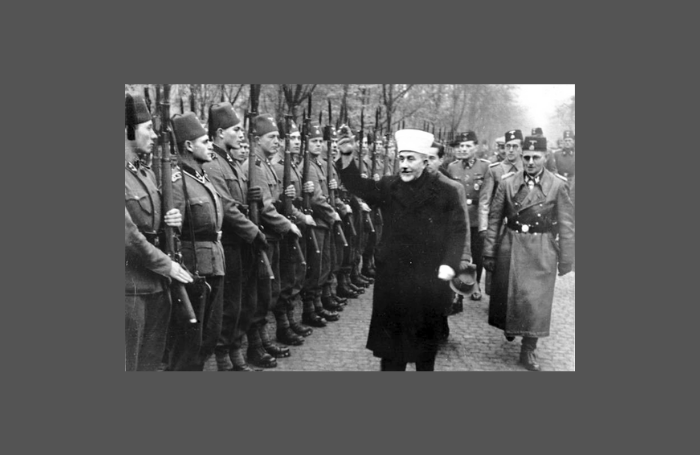 ______________________________________________________
The Israeli operation to rescue the Jews of Iraq, World Jewish Congress
The Freedom Mission of Baghdad
Jeff Cunningham
Jeff Cunningham, July 31, 2018
"he knew my father's co-pilot in the Baghdad airlift, a man named Lou Lenart. This was very strange because I had never even heard of Lou and I knew nothing of the airlift."
On a blustery afternoon in February of 2005, I found myself waiting for Lou Lenart in the lobby of the Casa Del Mar hotel near Santa Monica Beach. It was our first meeting, and I had no idea what he even looked like. Frankly, I was not even sure why I was there. The 84-year-old filmmaker was 30 minutes behind schedule, but as I would learn, good things happened when Lou ran late.
A painting and a yacht
The probabilities of Lou's amazing life intersecting with mine were non-existent. I was a business executive, and while I had lived as a child in Israel and my father as a pilot with El Al, I hadn't had much to do with Israel as an adult or in my business career. Curiously, although Lou said he knew my father well and flew with him, Dad never mentioned him, and since both my parents had died, I had no one I could check with. I really had no idea what Lou wanted. It took a painting, a board meeting, and the Israeli Air Force to put the puzzle together.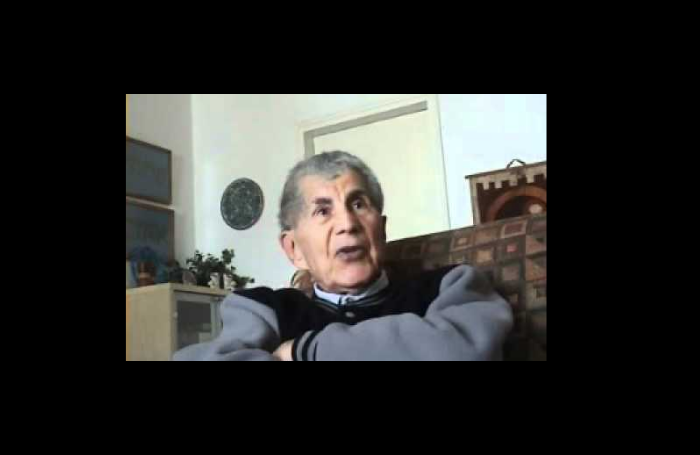 ____________________________________________________
For Further Reference:
Remembering the Farhud Pogrom in Iraq:  World Jewish Congress, YouTube, May 28, 2020 — It started on June 1st, 1941. For two days, a vicious mob in Baghdad went from door to door to Jewish homes – killing, raping, looting. The pogrom, known as the Farhud in Arabic, was a shocking turning point for the Iraqi Jewish community.
An Insider's Account of International Farhud Day:  Edwin Black, Sun Sentinel, June 26, 2015 — While I was speaking to the packed room, a woman I did not know, sitting in the front row, slowly shook her tear-stained head in disbelief and muttered softly … barely audible … "I never thought I would hear these words in this building."
 
Iraq's Jewish Community Dwindles to Fewer than Five:  France 24, Mar. 28, 2021 — The death of Dhafer Eliyahu hit Iraq hard, not only because the doctor treated the neediest for free, but because with his passing, only four Jews now remain in the country.
 
What Do You Know? Iraq's Jewish History?: Annie Greene, Katz Center, Mar. 25, 2021 — An anonymous reader asks: Are there any Jews left in Iraq?