The Real Lesson of the Texas Synagogue Attack:  Melanie Phillips, Melanie Phillips Substack, Jan. 18, 2022
Texas Synagogue Terrorist Came Out of UK Islamist No-Go Zone:  Daniel Greenfield, JNS, Jan. 17, 2022
Six Facts on the Texas Synagogue Terror Attack:  A Middle East Forum Fact Sheet, Middle East Forum, Jan. 18, 2022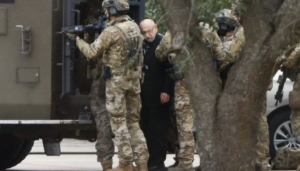 Exclusive: Rabbi at Center Of Texas Hostage Standoff Had Resigned In Fall Amid Discord:  Robin Washington, Forward, Jan. 19, 2022
---
For Further Reference:
Texas Synagogue Shooter Had Radical Islamic Ties:  John Rossomando, Newsmax, Jan. 17, 2022 — The Islamist gunman who took four people hostage at Congregation Beth Israel in Colleyville, Texas, belonged to a Pakistan-based Islamic extremist group called Tablighi Jamaat, the New Delhi-based Hindustan Times reported Monday.
Who is Aafia Siddiqui, the Federal Prisoner at The Center of the Texas Hostage Incident?:  Dennis Romero and Ken Dilanian, NBC News, Jan. 17, 2022 — Aafia Siddiqui, whose release was demanded by a man who took hostages inside a Texas synagogue, would not condone the man's actions, her attorney said Saturday.
After Texas Synagogue Siege, Rabbis Wonder: Welcome the Stranger, Or Lock the Doors?:  Arno Rosenfeld and Louis Keene, Forward, Jan. 18, 2022 — The hostage standoff at Congregation Beth Israel might never have happened if Rabbi Charlie Cytron-Walker had not welcomed in a man who claimed to be looking for shelter on a cold Saturday morning.
Orthodox Group Joins Lawmakers to Form Caucus Promoting Torah Values, Battling anti-Semitism:  JNS, Jan. 19, 2022 — Members of both parties in Congress inaugurated a new Congressional Caucus on Monday to focus on Jewish issues such as the rise of anti-Semitism and unfair treatment in Jewish communities.