Joseph A. Harris, Smithsonian Magazine, December 2003
David McNeil fondly remembers the day in the early 1960s his father took him to a little bistro on Paris' Île St. Louis, the kind of place where they scrawl the menu in white letters on the mirror behind the bar, and masons, house painters, plumbers and other workingmen down hearty lunches along with vin ordinaire. Wearing a beret, a battered jacket and a coarse, checkered shirt, his father— then in his mid-70s—fit in perfectly. With conversation flowing easily among the close-set tables, one of the patrons looked over at the muscular, paint-splotched hands of the man in the beret. "Working on a place around here?" he asked companionably. "Yeah," replied McNeil's father, the artist Marc Chagall, as he tucked into his appetizer of hard-boiled egg and mayonnaise. "I'm redoing a ceiling over at the Opéra."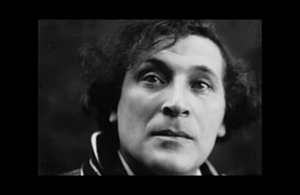 Marc Chagall – the Surrealist Jew:  Yemima Hovav, Segula Magazine, Sept. 15, 2013
"it was no secret that Chagall's most vital work had been made on the eve of World War I, when he hurtled among St. Petersburg, Paris, and Berlin, creating his own amalgam of modern art and Eastern European Jewish folk culture"
Sooner or later, the reputation of every creative artist hardens into a kind of permanent fact, after which point only a sharp and massive shift in public sensibility can budge it. For artists who live to extreme old age, this process can take quite a while. Those lucky enough to become public figures find that their works are exempted from exacting judgment, and everything they do—good, bad, indifferent—is treated as equally fascinating. Eventually, however, the vivid personality recedes, leaving only the work.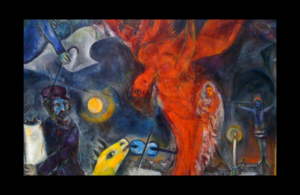 Whatever Happened to Marc Chagall?: Michael Lewis, Commentary Magazine, October 2008
"Chagall has been described as the greatest Jewish painter of all time. His artwork shifts constantly from reality to fantasy, from physical to spiritual, just as his life brought him face to face with different worlds and conflicting sources of inspiration."
Was Marc Chagall a painter first, or a Jew? Despite personal protestations to the contrary, and the unique fusion of Cubism, folk art, and Fauvism he created, Chagall's life and work speak louder than his words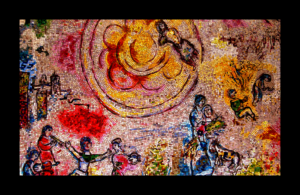 An Art School Started by Marc Chagall that Became a Modernist Wasteland: Wilson Tarbox, Hyperallergic, July 11, 2018
"The Communist leaders didn't seem so happy. Why was the cow green? Why was the horse flying in the sky? Why? What did this have to do with Marx and Lenin?"
A large, wall-sized photograph of Lenin addressing a crowd of Red Army soldiers greets visitors to Chagall, Lissitzky, Malevich: The Russian Avant-garde in Vitebsk, 1918–1922 at the Pompidou Center. Context is important to this show, which examines the thrilling but lesser known story of the People's Art School, founded in 1918 by the painter Marc Chagall in his hometown of Vitebsk, a small city to the north of present-day Belarus.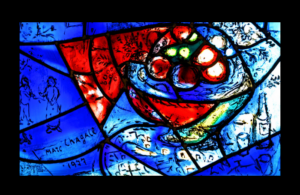 FOR FURTHER REFERENCE:
Chagall Documentary:  YouTube, Nov 30, 2017 — Marc Zakharovich Chagall (/ʃəˈɡɑːl/ shə-GAHL;[3][nb 1] born Moishe Zakharovich Shagal;[4] 6 July [O.S. 24 June] 1887 – 28 March 1985) was a Russian-French artist of Belarusian Jewish origin.[1] An early modernist, he was associated with several major artistic styles and created works in virtually every artistic format, including painting, book illustrations, stained glass, stage sets, ceramic, tapestries and fine art prints.
 
Resurrecting Chagall:  Graham Lawson, Jerusalem Post, Aug. 19, 2014 — In 2012 the Tel Aviv Museum of Art received a grant from the Bank of America Merrill Lynch for the conservation of works in the museum's collection "deemed to be of special cultural and historical value." The bank founded an Art Conservation Project in 2010 with the intention of funding art preservation around the world.
 
Anxiety and Hope in a Mystical Fusion; Paris Show Offers Chagall's Intense Humanism Beyond the Joie de Vivre:  Alan Ryder, New York Times, Apr. 22, 2003 — After their deaths even prominent artists are often neglected for a time before they are again appreciated. This has been the case with Marc Chagall. This Russian-born painter lived to such a ripe old age that he was already out of fashion when he died in southern France in 1985 at the age of 98. Many critics considered that his best work was done a half-century earlier.
 
Marc Chagall's Bible Series: How the Artist Brought the Bible to Life: Park West Gallery, Jan. 28, 2019 – Now considered a pioneer of modernism, 20th-century artist artist Marc Chagall risked damaging that reputation when he created a graphic series based on one of art's most ancient subjects: The Bible.
 
"Marc Chagall And The Bible":  Glencairn Museum News, Number 4, 2015, Apr. 30, 2015 — Marc Chagall and the Bible will be on view at Glencairn Museum through Sunday, October 4, 2015. Marc Chagall (1887–1985) has been called the quintessential Jewish artist of the 20th century, and one of the foremost visual interpreters of the Bible. He was born in Vitebsk, Belarus, into a traditional Hasidic Jewish family. According to the artist, "Since my early youth I have been fascinated by the Bible. It has always seemed to me and it seems to me still that it is the greatest source of poetry of all time. Since then I have sought this reflection in life and in art. The Bible is like an echo of nature and this secret I have tried to transmit."
 
How Marc Chagall's Daughter Smuggled His Artwork to the US:  Hakim Bishara, Hyperallergic.com, Sept. 23, 2019 — August 22, 1941. "As you can see, we are already in the city, at Hampton House," writes early Modernist artist Marc Chagall to General Morris Troper and his wife Ethel shortly after his arrival to the United States.
 ______________________________________________________
This week's Communiqué Isranet is : Communiqué: Trêve de politique: une pensée pour les victimes de la tragédie de Meron (7 Mai 2021)
CIJR wishes our friends and supporters Shabbat Shalom!