Restore America's Commercial Sea Power: Christopher R. O'Dea, National Review, Apr. 2, 2021
"China's game plan is to pit large companies and financial investors against Western populations."
While many in the U.S. and the West shelter in place hoping that warmer spring weather will slow the spread of the Wuhan coronavirus, China is planning its own Spring Offensive."
China sees an opportunity to exploit the fear and carnage of the outbreak to strengthen its hold over global supply chains — and the medical-equipment and pharmaceuticals sector is the next industry in China's sights.
China in the Middle East: "Silk Road" to the Levant:  Mordechai Chaziza and Efraim Karsh, Middle East Quarterly, Spring 2021
"China is now the Middle East's largest foreign investor, with its $155 billion worth of investment in 2013-20 accounting for over 40 percent of the total direct foreign investment in the region during this period"
The 2013 launch of the Belt and Road Initiative (BRI), China's 21st-century grand revival of the ancient Silk Road connecting the Far East and Europe, has transformed the Middle East's geopolitical role in Beijing's outlook from exclusively an energy supplier into a vital link in the vast transportation and trade network it is vying to construct. As a result, China has evolved from simply an oil and gas consumer into a major economic (and to a lesser extent political) player in the Middle East. China is now the Middle East's largest foreign investor, with its $155 billion worth of investment in 2013-20 accounting for over 40 percent of the total direct foreign investment in the region during this period.
Iran Wants To Use China To Counter US – What Are The Implications?: Seth J. Frantzman, Jerusalem Post, May 3, 2021
Iran has been increasing ties to China in recent years, impressively securing a 25-year cooperation agreement with Beijing. The details of the deal are still obscure, but Supreme Leader Ayatollah Khamenei tweeted about the importance of China on Sunday.
The point of his message should not be lost on the region. Iran is signaling that it can balance the US role in the region through work with Russia and China. Russia is a known quantity, but China's emerging role has far-reaching consequences.
"The Islamic Revolution removed Iran from being under the control of the US," the Ayatollah wrote. "That is why you see them becoming angry when Iran establishes political and economic ties with China, Russia and its other neighbors."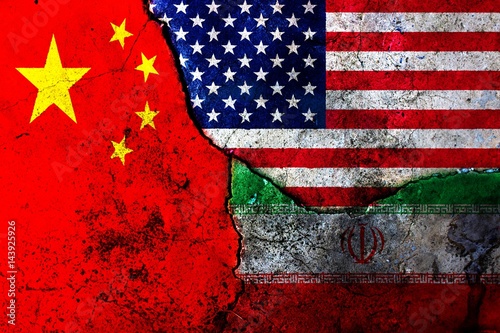 All China's Parties: Lee Smith, Tablet, Apr. 26, 2021
It's too late to do anything about China. The contest for global supremacy is over. Beijing now sets the pace—economically, politically, even militarily—and there's nothing for America to do but accept China's inevitable victory.
Whether that's true or not, it's the message coming out of President Joe Biden's Washington. A raft of appointees with alarming ties to Chinese state institutions, including China's spy services, suggests that much of the U.S. ruling establishment just wants to get paid.
________________________________________________________________________
Evidence Reveals That Military Team Collaborated With Lab in City Where COVID-19 Pandemic Originated:  Nicole Had, Epoch Times, May 5, 2021 — The Chinese regime has said its controversial virology institute had no relationship with the military, but the institute worked with military leaders on a government-sponsored project for almost a decade.
Virus Stokes China's Spat with Australia:  Gerry Shih, National Post, May 2, 2021 — Soon after Australian officials called in April for a joint international investigation of the origins of the coronavirus pandemic, the Chinese government ratcheted up pressure on Canberra to drop a proposal that it believed would unfairly target China.
G7 Warns China Not to 'Escalate Tensions' with Taiwan Amid Military Threats:  James Griffiths, CNN, May 5, 2021 — Foreign ministers from the Group of Seven (G7) nations have called for greater engagement with Taiwan, and warned China not to escalate cross-strait tensions following a spike in military maneuvers around the self-ruled island.
Gravitas: A Warning to Xi Jinping from China's Hawkish Generals:  WioNews, YouTube, July 30, 2020 — Gravitas: A warning to Xi Jinping from China's hawkish generals
Sen. Barrasso: China Playing US 'For the Fool': Charlie McCarthy, Newsmax, Apr. 30, 2021 — China is "playing the United States for the fool" as it seeks to become the world's dominant power, according to Sen. John Barrasso, R-Wyo.
China is Trying to Break up the Five Eyes Intelligence Network:  Con Coughlin, Gatestone Institute, May 3, 2021 — China is making a deliberate attempt to create divisions within the elite "Five Eyes" intelligence-sharing alliance by forging closer relations with the left-wing government of New Zealand premier Jacinda Ardern.
Additional reading:
China Is Extending Its Totalitarian Controls to the Rest of the World:  Gordon G. Chang, Gatestone Institute, Apr. 27, 2021
Raymond J. de Souza: Is Canada's see-no-evil policy on China going to end post-COVID-19?:  Raymond J. de Souza, National Post, May 1, 2021
Treat China as an Adversary, Not a Competitor:  Fred Fleitz, Center for Security Policy, Apr. 29, 2021